8 crucial tips for moving overseas
Moving overseas can have different reasons; some move to chase a new job opportunity, some move for love or some move to study abroad. If you are moving overseas for a longer period of time, you likely want to move your belongings with you so that your new place feels comfortable right away. Compas can help you with that. Our purpose is to take on the entire burden of your removal and to make the process of moving overseas less stressful for you.
The ultimate checklist for moving overseas
To make sure your move across the ocean goes smoothly, we listed some tips below.
1. Get the right documents prepared: these are documents like birth certificates, child custody papers, divorce papers, medical records etc.

2. Look into healthcare requirements: healthcare can become a big expense overseas when not properly prepared. You may want to look into private medical health insurance if you are not getting healthcare benefits from your employer.
3. Review tax obligations: make an appointment with a tax professional to know your obligations before moving overseas.
4. Get a property insurance: whether you are purchasing or renting a home overseas, an insurance is crucial to ensure that your belongings are covered from any damage that might occur.
5. Apply for a visa: an application can take longer than you might expect. This all depends on the country you are moving to. Make sure you double-check these deadlines.
6. Consider storage: make a list of the items you want to ship overseas and the items you won't be needing in your new country. For the latter you can opt putting them in storage or donating to charity.
7. Visit your vet: Relocating a pet can be a complex process, requiring special customs documents, health checks, vaccinations and more. Take your pet to the vet to check if it needs any immunizations like rabies or booster shots.
8. Look for the right international moving company and set up a moving survey: this is probably the most important one mentioned in this list. Moving overseas is a complex process that needs professional guidance. We use virtual surveys so you can show us your items and ask questions about your move overseas.
Transport options for moving belongings overseas
Moving furniture overseas can be done in various ways. You can opt for sea freight, air freight or a combination of the two. Both air freight and sea freight have their own advantages and disadvantages. Compas is happy to provide you with more information about which transport option is best for you. We can also help you figure out how to move your car or move your pet or help you with insurance and finding the perfect international school for your kids.
1. Moving overseas via sea freight
Shipping is perhaps the most common way to move your belongings overseas since this is often also the cheapest way. We start by sending a container to your home. Once all household goods are packed carefully by our team of packers, we load the container and ensure that it gets to its starting point in the right way and at the right time.
Please note that some countries have different seaports where container ships come in. It is important to discuss well in advance which port of entry suits the requirements of the overseas move, as this can mean an enormous time and cost saving.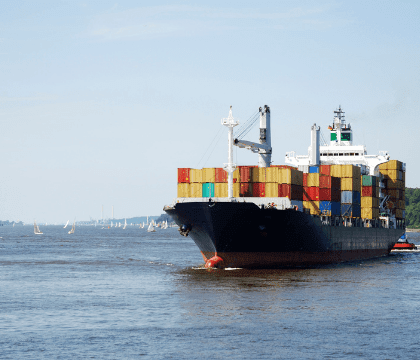 2. Moving overseas by air freight
Because of the cost of the fuel, this is often the most expensive option for moving your belongings overseas. Especially the weight of your household goods plays a role in air freight. The biggest advantage of this option is the speed of delivery. Air freight is considerably faster than sea freight. If you are moving with a tight schedule, you might want to consider this option.
3.  Moving overseas via a combination of air and sea freight
There is often a difference between goods that people need immediately and goods that are less urgent. For that reason, people often choose for a combination between air and sea freight for shipping furniture overseas. Most of the furniture is usually moved by sea freight. Personal goods that are needed right away can be moved additionally by air freight. Compas can help you find the right balance between these two options.
Compas as your overseas moving company
Compas has built up a lot of experience in international moving and shipping furniture overseas. We look at each project individually and each of our clients get as much of our personal attention as needed. Customer satisfaction is of the utmost importance to us. Please do not hesitate to demand a free quote or book a virtual survey. You can also contact us via the form below.